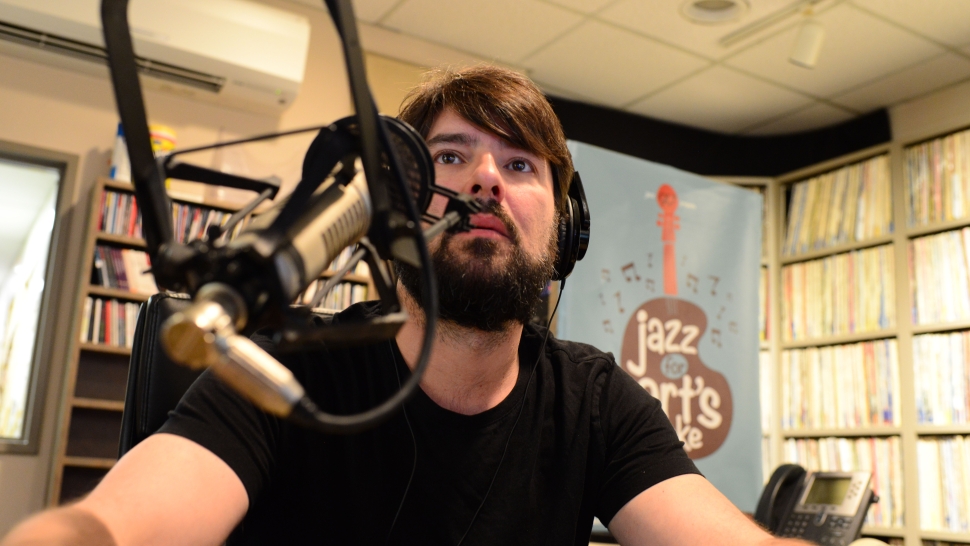 KRTU Spotlight: The Jazz Break at Noon with Kory Cook
KRTU Intern Hannah Currie Interviews Music Director Kory Cook
The Jazz Break at Noon has been on air for 12 years now, and KRTU is proud of both it and its host, KRTU Music Director Kory Cook, so we're putting the spotlight on Kory! KRTU Intern Hannah Currie sat down with Kory, and this is what he had to say about the show:

Q: What exactly brought this show about? (What inspired it, why did you finally decide to take it up, why do you KEEP doing it, etc.)?

A: The Jazz Break at Noon serves as a musical bridge between our morning and afternoon programming...a specialty show sandwiched between dayparts. We felt that listeners would enjoy a mid-day program reflecting our evening programs that focus on a particular artist, recording, instrument, location, movement, etc. Twelve years strong, I continue to find new discoveries through over 100 years of recorded music in all known formats. It's an endless path of pure enjoyment for me to listen to jazz and improvised music. And there's a sense of satisfaction from learning something new everyday about the music and the artists who create it, then sharing it with a community of listeners and supporters.

Q: What makes this show unique?

A: The show's placement between regular core programming highlights a particular subject in jazz throughout the week, allowing the chance to dive deeper into the story of an artist or record, or movement, for five days straight, and present the chronology and development in multiple parts. It's a weekly series, featuring an incredibly wide selection of recordings. One week you might learn about the impact of a key artist in the development of jazz, like Texas-born guitar icon Charlie Christian. Then, the following week we might focus on a current working artist, like trumpeter Ambrose Akinmusire, saxophonist Melissa Aldana, or recordings from our local community of extremely talented and dedicated musicians. I also prepare a monthly summary of the weekly show for the website and newsletter.

Q: If you could pick any show on KRTU other than yours to host, which one would it be and why?

A: That's a tough question to answer. I enjoy all of our programs, and I invite all hosts and staff members to join the continuing conversation on the growth and development of KRTU's diverse program schedule. But if I have to choose one...it would be to continue the Sunday afternoon Blues Review. Where the esteemed, now retired, host Mark Stewart left off, I'd attempt to bring the blues back to weekend programming, with an all new spectrum to consider. Mark sometimes reminded me, with a quote from Willie Dixon, that " blues are the roots, and the other music are the fruits."

Q: So many KRTU listeners love your show- why do you think that is?

A: I'm not sure they love the show, in particular, as much as they love the station as a whole and all of the varied programs that make up our daily broadcast. But we do include regular promotion for the show with consistent, fresh content throughout the week on-air and online. And big thanks to graphic designer and Blue Note Hour host J.C. Pagan for his artistic contribution to the show's visibility on social media. Some dedicated listeners turn to the Jazz Break at Noon for the B-sides and more rare cuts from a particular instrumentalist, going beyond their most popular recordings for a deeper dig into their discographies.

Q: How do you keep the music selections fresh? It seems like you'd eventually run out of music.

A: If we were a commercial radio station with limited playlists and content, I might have that problem. But non-commercial radio listeners demand variety, diversity, and flexibility in programming. And considering the massive amount of jazz recordings we have to choose from, with over 100 hundred years of the greatest music ever made, and all of the different characters and creators who made it all happen and continue to make music all over the world, I'll never run out of material.

Q: If there's anything else you wanna say, do tell :)

A: Thank you for taking the time to speak with me about the Jazz Break at Noon. I hope that our listeners and supporters enjoy listening to the program as much as I do putting it together.