The Jane and Arthur Stieren Theater is stage to the Trinity theatre department's four yearly productions, along with other large campus and community events. The theater was renovated in 1999, which included updating of its sound, lighting, and rigging systems. The audience area was reconfigured to create a 330-seat orchestra seating area and an additional 167 seats in a newly created balcony.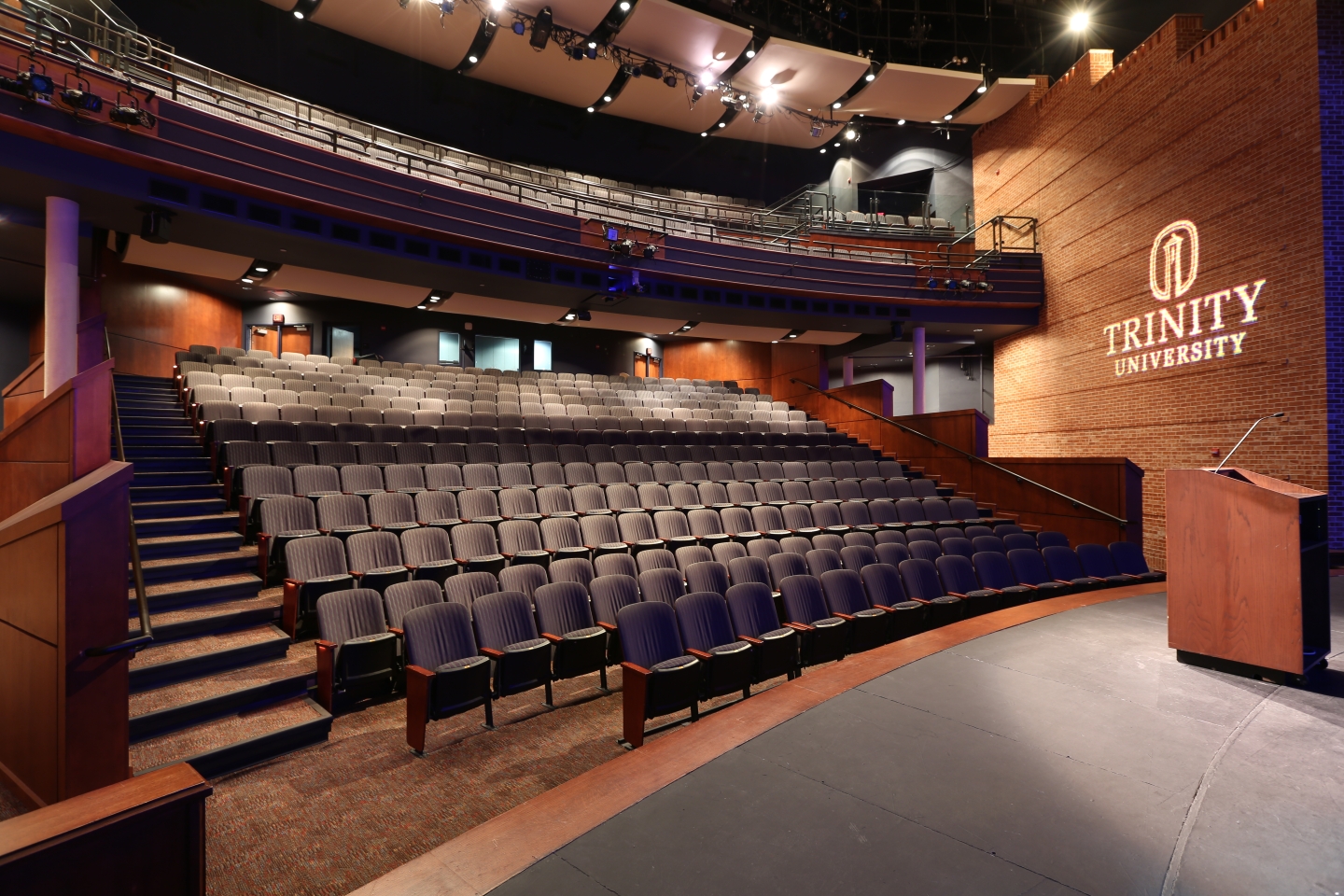 Attic Theater
The Attic Theater serves two purposes: classroom and laboratory. It has a sprung floor and excellent sound, lighting, and video systems.

Café Theater
The Café Theater seats 50 and is also used for performance classes and student-produced lab shows.

Costume Studio
The costume studio is equipped with 12 Bernina sewing machines, four Bernina sergers, an industrial sewing machine, an industrial hemmer, and an assortment of dress forms.

Scenic Studio
The 2,500-square-foot scenic studio is equipped for both wood and metal working. It houses a SawStop table saw, a 12" DeWALT radial arm saw, several power miter saws, and a distributed pneumatic system with many pneumatic tools.

Properties Studio
The well-organized properties studio provides easy access to our stored props as well as storage of a production's custom props and furniture.

Paint Studio
The paint studio is housed on stage right, providing over 600 square feet of painting space. Larger items, such as drops, are painted on the stage.
---
Events and Booking Information

Upcoming Events
Booking Information
---
Tiger Faculty and Staff
Host an Event
Planning a large event or activity? Contact Conferences and Special Programs for more information about event planning on Trinity's campus.
Reserve a Space or Place
Make individual space or room reservations through T-Space at tspace.trinity.edu. You'll need your Trinity network username and password, and an idea about the date, time, location, and size of your event.
Students: Reach out to a faculty or staff sponsor for more information on event planning and space reservations.
Community Members
Host an Event
Want to use a facility or space on Trinity's campus for your next large event or activity? Contact Conferences and Special Programs for more information.
Reserve a Space or Place
Rooms, halls, and outdoor spaces can be reserved for events such as guest lectures, meetings, or other smaller activities. Contact Conferences and Special Programs for more information.
Parking and Accessibility
---
General Parking
The Laurie Auditorium Parking Garage has designated levels for permit holders and visitor parking on the Orange level and Lot B. TUPD is available and onsite during every event to help guide to the appropriate parking areas. 
Accessibility Accommodations
Parking
Laurie Auditorium Parking Garage has elevators and has accessible parking spaces available on all levels.
Reserved Seating
Reserved wheelchair and accessible seating in all the venues.
Assisted Listening Devices
Devices may be obtained free of charge at the box office prior to the event, but patrons are required to leave a photo ID, to be claimed upon return of the device.
Closed Captioning
Closed Captioning available for certain performances.