ASK AND ANSWER QUESTIONS
Admissions Experiences
Connect with Trinity—wherever you are in the world or in your college search process! Our in-person visits and virtual sessions give you the chance to engage with admissions counselors and ask questions of current students.
In-Person Campus Visits
Tour campus and discover more about Trinity University by hearing directly from current Trinity students.
On-campus visits are typically offered Monday through Friday in the morning, Friday afternoons, and select Saturday mornings. 
In-Person Trinity In Focus
Learn what makes Trinity's educational experience distinctive.
Attend our open house and learn what makes Trinity's educational experience distinctive. Tour campus, hear from current students and faculty, and learn about admissions, financial aid, and scholarships.
Saturday, July 9, 2022
Saturday, September 10, 2022
Saturday, November 12, 2022
Admissions Interviews
We invite you to meet one-on-one, in-person or virtually, with a Trinity University admissions representative.
Distinguish yourself in Trinity's competitive applicant pool, learn more about the admissions and scholarship process, and gain further insight into the many academic and co-curricular options available to Trinity students.
Virtual Trinity In Focus
Learn what makes Trinity's educational experience distinctive.
Explore campus, engage with current students, discover more about our academic experience, and learn about admissions, financial aid, and scholarships.
Schedule and registration information will be available at a later date.
Learning TUesdays - A College Search Webinar Series
Watch recorded sessions from our Learning TUesdays webinar series tackling some of the most frequently asked questions from students and parents about the college search process.
Pre-Recorded Info Sessions
If you can't make it to a live session, visit Trinity virtually by watching these pre-recorded sessions:
Trinity Academic and Campus Life Distinctions
Learn about academics, resources, and experiential learning (internships, research, study abroad) at Trinity, plus hear about San Antonio, campus life, and outcomes.
Admissions and Financial Aid
Hear from Justin Doty, Dean of Admissions, about application requirements, deadlines, and decision plans, plus the cost of attendance and affordability, including scholarships and financial aid.
Launch Experience
Virtual Tour
Take our virtual campus tour, and check out the places students say are their favorite spots to meet, play, study, hang out, run, celebrate, think, or gaze at our amazing panoramic views.
360º Campus Tour
Join student tour guides Logan Felton '20 and Enrique Alcoreza '20 for an immersive 360º video tour of Trinity's campus.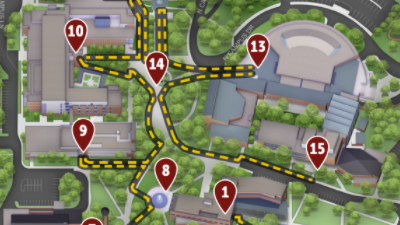 Self-Guided Campus Tour
While you're on or off campus, follow this guided route as it loops through residential and academic areas of campus. 
HEAR FROM CURRENT STUDENTS
Meet Our Tigers
In addition to exploring our beautiful campus, one of the best ways to determine if Trinity is the right school for you is to hear from bright, energetic, and engaged students and passionate faculty.
Ask a Tiger
You've got questions. We've got answers. Check out our #AskATiger series for the answers to previously submitted questions, or ask your own at askatiger@trinity.edu.
The Trinity Perspective
Get the inside scoop from the Trinity community on campus life, student involvement, academics, athletics, study abroad, and more.
CULTURE AND COMMUNITY
San Antonio: A City on the Rise
San Antonio is one of the fastest-growing cities in America with economic demand in medical, biomedical and biotechnology, tourism, technology, and military sectors. Its close proximity to Mexico makes it a cultural hub of engagement with the Latin American world.
Lodging, Events, Recreation, Dining, and More