Getting to Know Gerard Beaudoin III '99
Alumnus awarded grant for neuroscience research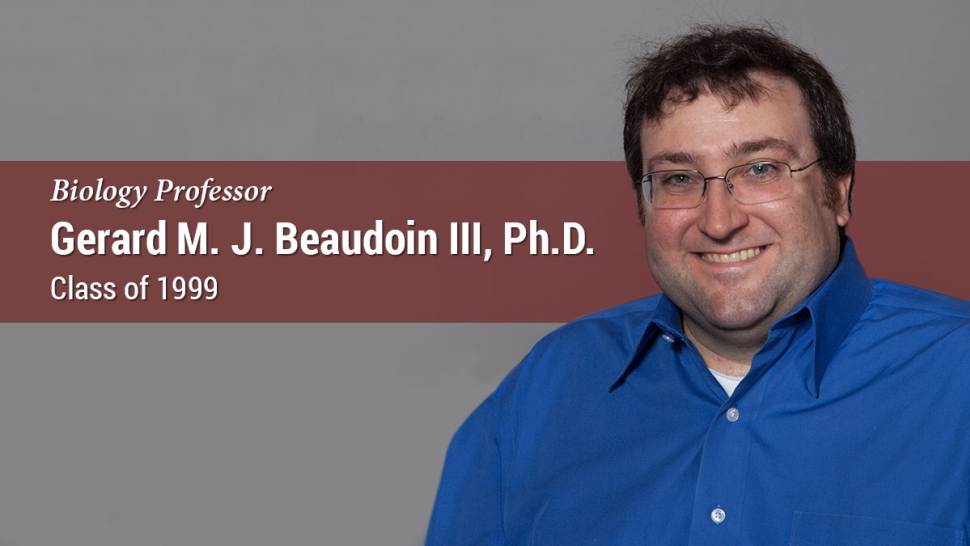 Biology professor Gerard M.J. Beaudoin III '99, Ph.D., has come full circle—once a Trinity undergraduate himself, he now teaches and researches with Trinity students. His research lab focuses on dopamine neurons—the neurons critical for learning motivated behavior—and how cocaine affects the structure and function of synapses on these neurons. Beaudoin recently received a $70,000 grant from the Brain and Behavior Research Foundation to support his neuroscience research. He shared more about his research methods, how he motivates students, and whether Trinity should expect the next Walter White. 
What is it like coming back to Trinity as a professor? 
Surreal. Many of the faculty that taught me have now departed; however, I did have the pleasure of teaching alongside Dr. James Shinkle, who taught me in Cellular and Molecular Biology. The buildings are also largely different, although the basement of CSI feels eerily similar to Cowles Life Science building. Even though there are several differences, it's eerie how things don't change. I see my experiences as a student in the eyes of my students. Their struggles with juggling 17-18 hours along with a work-study job, research, and friends are seemingly timeless. Additionally, families seem to always go through transitions while students are away at college, and I relate to these struggles my students have.
What does your research focus on? 
Neurons that release dopamine are important for reward-based learning and are co-opted by drugs of abuse, like cocaine, to encode addiction. Just one dose of cocaine has been shown to induce changes in the connections between excitatory neurons and dopamine neurons. We are now determining the process by which these exact changes are induced at connections shown to be strengthened by cocaine. We hope by blocking or resetting these changes, one aspect of addiction, such as relapse, will be prevented. 
You study neurons critical for learning motivated behavior, so as an expert on motivated behavior, how do you motivate your students? 
I involve students in all aspects of the research endeavor in my lab. Thus, I meet weekly with them to discuss their progress. Additionally, we place this work in the context of the overall project and look forward to upcoming presentations or papers that are due. In this way, we see the project both in the short and long term. In the classroom, I encourage and motivate by noting when things go well and try to highlight the growth the students have achieved while in class. 
You have participated in the Brain Bowl for 3 years (twice as a professor and once as a student). Can you tell us what the Brain Bowl is, and what your favorite memory has been?
This is an annual invitational quiz show put on by the neuroscience community at UT Health San Antonio. Three undergraduate teams answer questions regarding our nervous system. When I competed in the competition as an undergraduate, Trinity did not even have a neuroscience program. Needless to say, we did not win and weren't terribly well prepared. My first year returning to Trinity as a professor, I coached the team along with Dr. Jimmy Roberts; although we lost, we were much better prepared than I was. Last year's competition was the most exciting and my favorite memory. Trinity was tied against the reigning champion team going into the final question in which you can wager however many points you care for. Both teams answered the question correctly, but both teams wagered zero points! This led to a best of five question showdown in which the winner takes all. This was a first in the history of the brain bowl competition at UT Health. Our team won three to one, each question on a topic I remember teaching my students in Neurobiology. It was awesome.
What profession other than yours would you like to attempt?
One of the skills I have picked up through my years of doing science is repair of small equipment. There is something satisfying about taking a piece of broken hardware, learning how the machine was designed, and then returning the machine to function based upon the understanding you gained. I could see starting a small machine repair shop or being a repair technician for hire. 
What is your favorite aspect of teaching? Least favorite?
My favorite aspect of teaching is discussing material with students in smaller group settings, either during lab or in office hours. I enjoy seeing a student gain understanding while working with them. My least favorite aspect is grading. I find it to be time consuming to be careful in fairly grading each student's work.  
What is your favorite word? Your least favorite word?
Optogenetics is my favorite word as it didn't exist until about 2005, and the components of the words exactly describe what it is, the combination of light and genes to control cells. My least favorite word is rejected. As a scientist, I have heard this word when submitting papers to journals and grants to funding agencies. I much prefer its opposite, accepted.
You use a cocaine lab for studying the effects of the drug on dopamine responses in the brain—is there going to be a Trinity version of Breaking Bad? 
I really enjoyed this show and know it well, so I can answer this question on several levels. At a superficial level, am I going to start making and selling cocaine to support my family? Uh, no. I'm registered with DEA to purchase and use cocaine, a Schedule II drug, so I'm definitely being monitored.
On a slightly deeper level, in the show an excellent chemist used his skill to make methamphetamine. However, cocaine is purified from the coca plant, which highlights one of my biggest weaknesses—an infallible inability to keep plants alive. 
On the deepest level, Walter White had a great deal of hubris and felt being a teacher was a complete waste of his genius. I'm actually in my dream job now and enjoy all aspects of the position, so I don't intend to leave anytime soon.