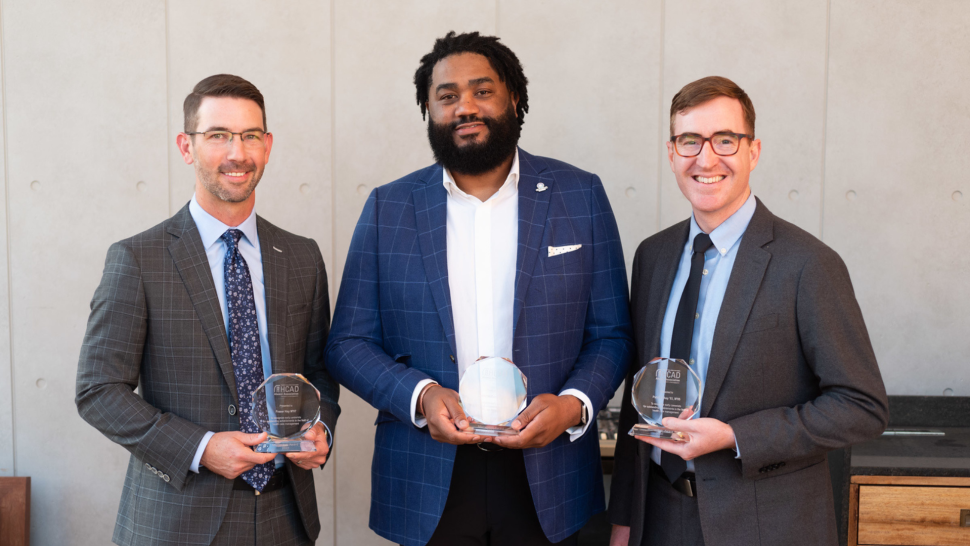 Honoring the HCAD Alumni Association Winners
Meet the 2020-22 recipients of the Momentum and Duce Awards
Friday, November 18, 2022
In late October, six Trinity alumni were recognized at the annual Health Care Administration (HCAD) Alumni Association Awards ceremony. The ceremony served to honor the 2020-22 recipients of the Momentum and Duce Awards as well as the many contributions Trinity alumni have given to fields such as healthcare management, patient care, and medical technology.
There were three recipients of the Momentum Award, which recognizes early careerists age 40 and under for outstanding achievements in the field of healthcare management. Additionally, there were three recipients of the Duce Award, which honors graduates of the HCAD program who have shown outstanding leadership and made significant contributions to the field of health services administration. The Duce award is presented annually and is named after Dean Leonard A. Duce, a former dean of the graduate school at Trinity and one of the HCAD program's founding faculty members. 
Meet the award recipients from 2020-22 below, and view photos from the event.
The Momentum Award
Patrick Shay serves as associate professor of Trinity's HCAD department and has made a substantial mark on the field of healthcare management with his teaching and research as an innovative and collaborative colleague. Shay applies organization theory to understand and explain phenomena facing healthcare organizations. In 2020, he was promoted to associate professor and granted tenure at Trinity.
Fraser Hay serves as the president of Texas Health Presbyterian Hospital Plano, where he oversees daily operations, strategic planning, business development, and hospital culture. He completed his residency with Integris Health in Oklahoma City before eventually joining Texas Health Resources, where he has served as an executive in progressive leadership roles since 2010. Hay is a fellow with the American College of Healthcare Executives (ACHE) and was honored as the 2015 Young Healthcare Executive of the Year by the North Texas Chapter of ACHE and the 2017 Young Healthcare Executive of the Year by the Dallas-Fort Worth Hospital Council.
Jerold McDonald is the founder and CEO of Omaiven Health, a health tech company that automates the business of health care to help clinics lower costs and access barriers that prevent people from reaching the care they need. McDonald is an active member of the HCAD Advisory Committee and a guiding force behind Tiger Tank, PRISM, and more. He has encouraged the HCAD program to "think outside the hospital" to prepare students for their future careers.
The Duce Award
Michael Portacci served as the division president of Community Health Systems (CHS) from 2006 to 2017 and was responsible for 30 hospitals in seven states and net revenues over $4 billion. Portacci joined CHS in 1988 as a hospital CEO and was promoted to group director with oversight of multiple facilities. He was later named vice president in 1995 and senior vice president in 2001. Prior to joining CHS, he served in various hospital CFO and CEO positions. Portacci is currently doing advisory work and is involved in two healthcare startups.
Don Beeler is remembered for his legacy of service and exceptional leadership. Beeler worked with the CHRISTUS Health family for the entirety of his career, leading many teams with integrity and care. His final role was serving as the CHRISTUS Santa Rosa regional president and CEO from 2003-10. Beeler received numerous awards for his contributions to health care including the Healthcare Executive Regent's Award, the AHA Grassroots Champion Award, the inaugural HOSPAC Star Award, and the 2009 Earl M. Collier Award for Distinguished Health Care Administration, the highest award presented annually by the Texas Hospital Association.
Jim Kendrick is the president and CEO for Community Health Corporation (CHC), a national leader in advancing community-owned hospitals. Prior to CHC, Kendrick served with affiliates of Community Health Systems as CEO of AllianceHealth Oklahoma, CEO for Longview Regional Medical Center (LRMC), and COO for Wesley Medical Center of Hattiesburg, Mississippi. During his tenure at LRMC, the hospital was named to Modern Healthcare's Best Places to Work in Health Care in 2009, and in 2010, Kendrick was named on Modern Healthcare's Up & Comers. Kendrick also received the Boy Scouts of America Distinguished Citizen Good Turn Award in 2014; served as Chairman of the Longview, Texas Chamber of Commerce; and served as a Board member of the Longview Economic Development Corp. He is certified as a delegate of the American Hospital Association and is a fellow of the American College of Healthcare Executives.
Know any outstanding Trinity HCAD alumni working in health care? Submit your own nominations for the Momentum Award or the Duce Award.
The above image shows the Momentum Award winners. From left to right: Fraser Hay M'07 (2022 Recipient), Jerold McDonald '08 (2022 Recipient), Patrick Shay '03, M'05 (2020 Recipient).