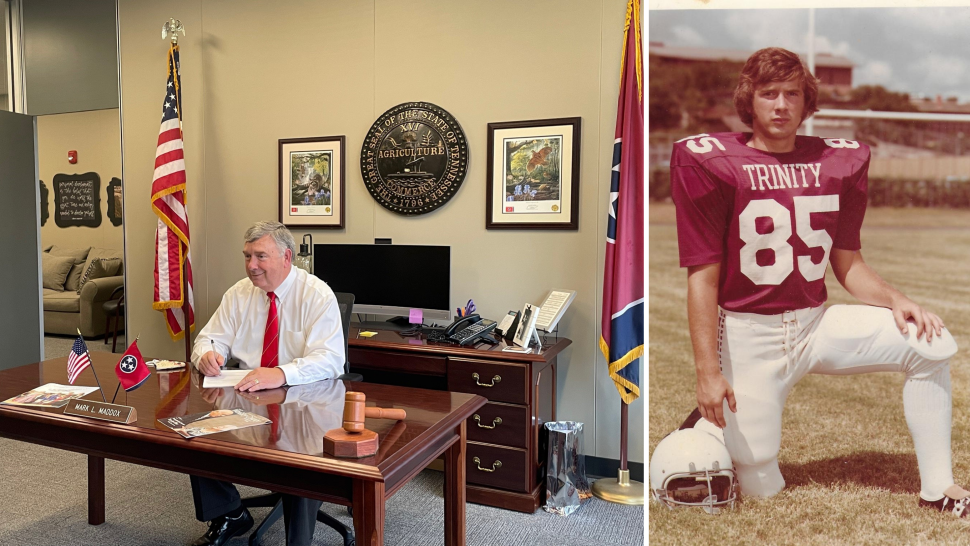 Returning to the University in the Sun
Mark Maddox '81, M'86, P'22 shares memories ahead of Alumni Weekend 2021
Mark Maddox '81, M'86, P'22 seems to be the person in charge wherever he goes—majority whip, Tennessee General Assembly; president of the Trinity University Student Government Association, and the first student to speak at graduation. With his CV in hand, I ask myself: Am I talking with the Trinity Tiger?
Mark had heard about Trinity University from a brochure that was trumpeting the attributes of the University of the Sun. Investigation soon revealed what Mark was looking for: a small liberal arts university, a campus located close to a bigger city, a community of young scholars and friendly professors more interested in teaching than research, and a chance to play college football. Mark's step dad was a truck driver with a route from Dresden, Tennessee, to Brownsville, Texas, and in January 1977 he dropped off Mark near the cactus garden at Trinity for a college visit. It was 7 degrees and blowing snow in Tennessee when he left, and a warm, balmy 62 degrees in San Antonio. After arriving on campus, Mark says, "this southern Texas Belle asked in her best Texas accent if she could help me. I said, 'Oh God, I hope so—I think I am home.'" 
Here is our conversation that follows.
Did that seal the deal?
I said to the Lord, "I want to go, but I've got to have some dough—there are three other children at home." Following additional contact with Doodie Myers and the admissions staff, and enough scholarship money to get the first year paid for, I became a Trinity Tiger.
You seem to be the person-in-charge wherever you go—majority whip, Tennessee General Assembly; president of the Trinity University Student Government Association, and the first student to speak at a commencement exercise. Did you hone those leadership skills while at Trinity? 
Well, maybe I had some in high school. My leadership skills and my ability to connect with people of all shapes, sizes, and facets, were honed sharp while I was there. I brought my confidence with me. But Trinity provided me with expanding horizons because northwest Tennessee is pretty small. At that time, Dresden had a population of about 2,300, and we counted everything that moved: cows, pigs, and chickens. So, you can imagine going to Trinity, which at that time had 2,800 students—it was the same size as my hometown. But to have the campus inside San Antonio, to be able to get that big-city experience—while also being able to retreat into Trinity—was a great experience.
Who was your biggest influencer at Trinity? 
There were three. The first is Dr. John Moore. We spent a lot of time talking about where we needed to go with my life and how that needed to happen. He was my mentor in the education department. The second is Reverend Raymond Judd. On the spiritual side, he was an excellent guide who opened my eyes to a few things that I may not have seen had he not been there. The third is Dean Colleen Grissom. As I rose through the ranks of student leader and had opportunities to interact with her, she became a very important part of my Trinity career. In fact, when my daughter Meyer Blaine '22 left for Trinity, my only request of her was to take a class under Dean Grissom. She called me at least once a week to thank me for making her take that class and said it really made a difference in the way she looked at things. As the student body president my senior year, I had asked Dean Grissom if I could go through the RA training even though I was not on ResLife staff. When she asked why, I said I needed to have the same knowledge that they do so that I can operate among them and with her. She granted permission, and it was the first time that was ever done. That year, a young man had a terrible car accident over the Christmas break and could not return to class, so she asked me to fill in for him as an RA. I'd already been trained.
On your way to receiving double diplomas—a bachelor's degree in mathematics and psychology in 1981 and master's degree in education and school administration in 1986—you had other memorable Trinity firsts.
In the modern era, I was the first student to speak at graduation. If I could add a fourth influencer at Trinity, it would be President Ronald Calgaard. As a graduate student studying administration leadership, I had the opportunity to intern in his office; I was one of the first who was able to do that. I worked for his data person, Dr. Mike Yost. Having access to the President's Office taught me a lot about leadership. That was a great experience.
You mentioned Reverend Judd as a Trinity influencer. Are you a religious man, and why?
I am a Christian. My theology background is Cumberland Presbyterian, a middle of the road theology. It is the church that I grew up in; it's the church that I am the lay speaker. So, I do feel like God has directed my life. I think God took me to Trinity for a reason: to expand my horizon, so I didn't become so white-centric, to let me know there were other shades. Reverend Judd was immensely helpful in forming that while I was at Trinity. I took fourth semester Greek from Reverend Judd. The Classical Studies professor, Dr. Pierce, taught us how to translate, but it was Dr. Judd who allowed us to interpret and apply! We had interesting discussions in that class. I think my four years opened me up spiritually for a lot more things than I would have gotten if I had enrolled somewhere around home. Dr. Douglas Breckenridge was the professor I interviewed with when I was first visiting Trinity. He and I had an interesting discussion that day: He whetted my appetite to go and take some courses. At that time, I was considering the ministry; I didn't think I was being called, so I went the psychology route.
As majority whip in the Tennessee General Assembly, in what area(s) was/were your leadership most impactful? Why politics?
It was just another leg in a lifetime of service. I was a state representative from 1996 to 2010. My work was mainly in education and family issues. The knowledge and skills that I gained on Trinity's campus informed and produced results for my constituents. 
How have you remained engaged as an alumnus? 
I love Trinity, so I want to remain engaged. I have served a term on the alumni board and stayed in touch with those I know on campus. I have attended many reunions through the years with my family— Kerri, my wife of almost 29 years; Meyer Blaine '22, a Trinity senior studying neuroscience and on her way to medical school; Molly Shannon, a Berry College rising freshman, environmental science major; and Mark Lee II, a sophomore at Dresden High School. 
What are you looking forward to at your 40 year reunion?
Seeing everyone and hearing of their adventures.
Finally, looking back at the many Trinity alumni reunions, what was the most unforgettable moment?
There are many. It is the feeling you get when you walk onto a campus full of Trinity alumni, seeing your classmates who all had similar adventures but different experiences. The feeling you get: This is just family. We share so much. It is almost like we never left.