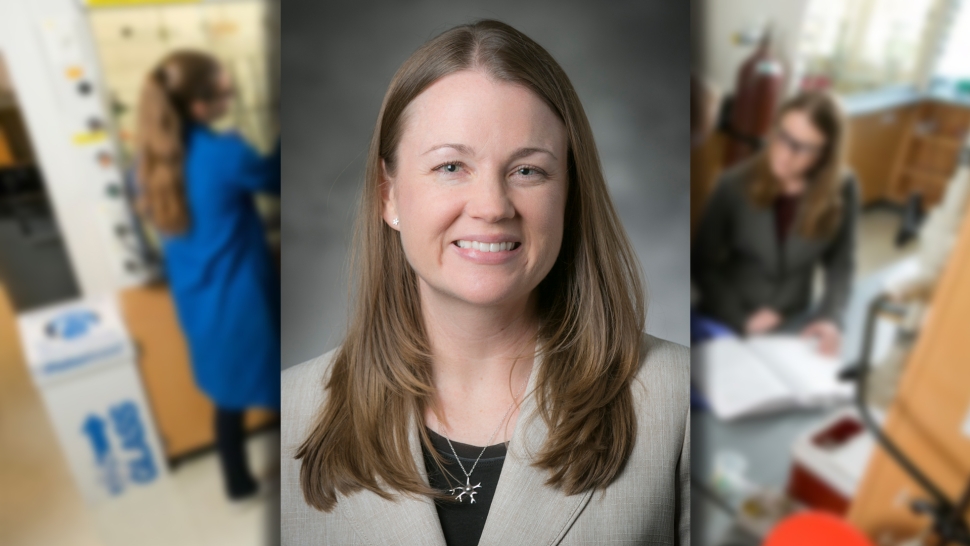 Amanda Hargrove '04 returns to Trinity to speak at the 2023 William Crews McGavock Symposium
On Friday, March 31, Trinity alumna Amanda Hargrove '04, Ph.D., will return to campus to deliver the keynote address at the 2023 William Crews McGavock Symposium for chemistry and biochemistry graduating seniors at 4:15 p.m. in Dicke Hall room 104. 
It's appropriate that Hargrove, now an associate professor of chemistry and biochemistry at Duke University, should be the featured speaker. First, Hargrove was presented the McGavock Award for Outstanding Research at the symposium her senior year. Second, in her lab at Duke, Hargrove, who received her doctorate in organic chemistry, is researching ways to fight cancer by studying molecules that target ribonucleic acid (RNA) in cancer cells.
"My lab looks to understand the role of some of these RNA's in metastatic cancer," says Hargrove, who is also a member of the Duke Cancer Institute. "We ask whether we can make drugs to target them. We, and others in the field, are making significant progress in this area. My lab has applied some of what we have learned to target RNA viruses such as hand, foot, and mouth disease and coronaviruses like COVID-19."
Hargrove joined the Duke faculty in 2013 as an assistant professor and was promoted to associate professor in 2020. Prior to becoming a "Blue Devil," she was a postdoctoral fellow at the California Institute of Technology from 2010–13. The versatile Hargrove is also the editor-in-chief of Medicinal Research Reviews, an academic publication by Wiley.
The late Dr. William Crews McGavock, for whom both the symposium and award are named, served as chair of Trinity's chemistry department at the University of San Antonio (which later merged with Trinity) from 1939–57. He established a major in chemistry, as well as a master's degree. McGavock continued as a professor until retirement in 1972.
Although McGavock died in 1985, long before Hargrove arrived at Trinity, his work is still relevant today.
"From my first semester on campus," Hargrove says, "it was clear that research was at the core of the chemistry department community. While I did not realize at the time how rare that is for a primarily undergraduate institution, it was also clear that Dr. McGavock had played a key role in its foundation.
"McGavock Symposia were some of my most memorable community events, and the McGavock Lectures provided the opportunity to meet amazing scientists. I still remember some of those lunches nearly 20 years later."
A native of Cypress, Texas, Hargrove received a scholarship to Trinity from what could be considered an unusual source, the Houston Livestock Show and Rodeo. She did not participate in the showing of prize bulls and other animals, but was honored as an outstanding student in the academic scholarship.
She decided to focus on organic chemistry, later earning her doctoral degree at the University of Texas in 2010. Hargrove heard Trinity professor Dr. Nancy Mills say, "Organic chemistry allows you to make entirely new things that no one has ever made before, and to have the entire world's supply on your shelf."
She also took classes with Dr. John Spence and conducted research with Dr. Benjamin Plummer. It was during this time that Hargrove realized the impact organic chemistry can have in the field of medicine.
As a Trinity student, Hargrove was president of the American Chemical Society Club, a member of the Chemistry Department Advisory Board, and vice president of the Catholic Student Group.
"There were many reasons I chose Trinity," Hargrove says. "I wanted the balance and breadth of a liberal arts education and excellent preparation for medical school, which was my intention when I enrolled. I enjoyed the close community feeling at Trinity, as well as its proximity to home. I did not know at the time that Trinity had one of the top undergraduate chemistry departments in the country–that was just great luck on my part."
The participants and guests at the McGavock Symposium can expect some profound and heart-felt comments from Hargrove about her chosen field. 
"Chemistry is the central science, and I realize this more every day," Hargrove says. "A thorough understanding of chemistry concepts will benefit you in any area of science you decide to study, or in any career that touches on science, from industry to politics.
"A career in chemistry can take on many forms, and I have had Ph.D. students interested in academia, industry, governmental policy, law, and diversity, equity and inclusion in STEM. Given this breadth of possibilities, the career advice I always give is to: 1) ask lots of questions; 2) get advice from as many people as possible; and then 3) do it your way–leaving as many doors open as you can because you want to be able to change course down the road."
The Department of Chemistry's 49th Annual William Crews McGavock Symposium is free and open to the public. The senior research poster session will begin at 2:30 p.m. on the fourth floor of the Center for the Sciences and Innovation, and the McGavock Award for Outstanding Research will be presented at 4 p.m. in Dicke Hall room 104, followed by Hargrove's keynote address. Please visit Trinity's events calendar listing for more information about this event.
 Hargrove may be contacted at amanda.hargrove@duke.edu.