Through plant biology class, students find that life flourishes in tiny spaces
Wednesday, November 18, 2020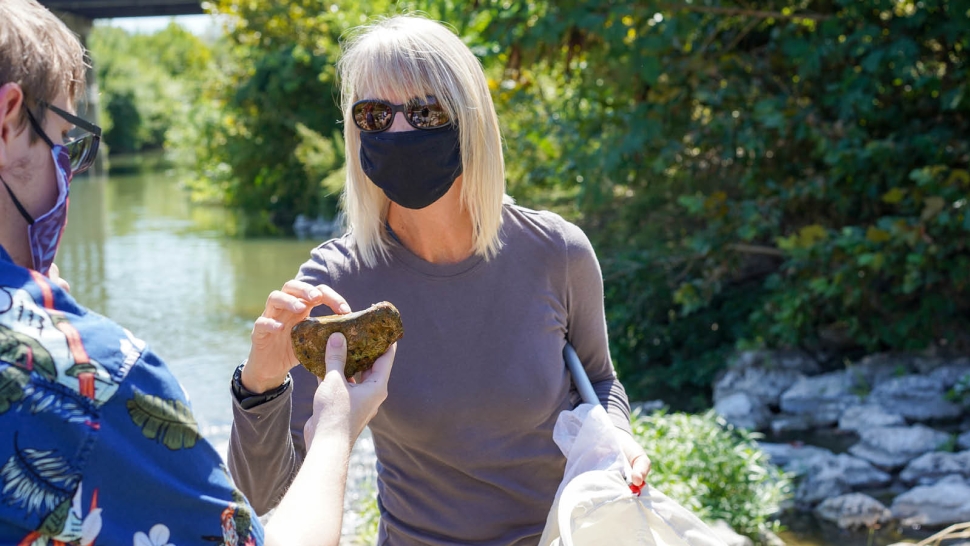 In 2020, the students and professors in Trinity's classrooms are as close as they've ever been.
Not physically, for obvious reasons. A global pandemic has de-densified campus, spreading students six feet apart—and beyond, as parts of campus operate remotely—and pushing classrooms into new digital spaces.
But the strongest ties still connecting Tigers are the ones at the heart of the University: those formed in the classroom. Each of our classes has become its own community. We'll show you why class—of all things—is the new highlight of everyone's week: because it's just about the closest thing to "normal" we can all get right now.
Unexpected Seeds
Biology professor Kelly Lyons has always handed out homework. But now, she also sends her students home with radishes.
Lyons teaches a class of nine students in BIOL-3427, a course in plant biology. The group meets for a lecture and lab each week, examining plants as food and energy resources. Lyons says the class has been fortunate enough to be able to meet in-person, even if meeting requires spacing six feet apart and involves talking for hours through masks.
Lyons' students have eagerly invested their energy into a class project where they take home vegetables to grow, examining how their plants compete given limited space. For many students, cooped up in their rooms for months, it's nice to see life thriving in cramped spaces.
"I've never seen students this excited about growing their own radishes," Lyons says. 
Grace Hanshaw '22 and Taylor Condron '22 loved the idea when Lyons suggested it.
"She asked us, 'Who already has a garden at home and loves plants?'" Condron says. "And everyone's hand shot up. So this is just like us adding to that garden."
The plants are an easy conversation starter, Hanshaw adds. 
"It's fun to bring the class home, and even more so because our class gets along really well," she says. "We just keep sending each other pictures of our radishes, which we think is funny. But there's a sense of community we've had to find in each other because that's the only normalcy we can get."
For Michael Leonard '22, another student in the course, having a tight-knit class has become an essential part of the Trinity experience in 2020, but it's not something he's taking for granted.
"I had a lot of friends who graduated last semester that I never got to say goodbye to," Leonard says. "I just took for granted that after spring break I'd get a little more time with them, and I never got that."
Biology students examine plants at Confluence Park
So it makes sense that Lyons' class unites around a "seize-the-moment" attitude. The group frequently ventures outside to the San Antonio botanical gardens and other vibrant nature spots. There, they study Monarch butterflies with tagging kits, examine plant specimens, and soak in the fresh air.
"[Lyons] gives us clippers and says, 'Bring me a plant. I'll tell you about it,'" Hanshaw says. 
"I never regret going outside," Lyons adds. "I've had days where I assume students are going to hate me because it was freezing or pouring rain, but in my course evaluations students will have written, 'That was the best day, when Dr. Lyons tortured us!'"
Whether through torture or gentler methods, Hanshaw says Lyons has taken an active approach to strengthening the community in her classroom this semester.
"She'll come in one day, stop in the middle of class, and ask, 'What's wrong? The energy level doesn't seem good today.' Then she goes around the room, person to person, and takes time to just talk to us about what we each have going on.'"
Kelly Lyons examines a plant outdoors with students
To Condron, Lyons' active approach to community building can turn even the unexpected aspects of class into treasured experiences.
"You have your syllabus and the material, but it's the things you don't expect that 'make' the class," she says. "Dr. Lyons gives us radishes, and we plant them. She brings moss in and asks us to grow it in petri dishes. And we do it—sure! Now every single one of us has moss by the windowsill. One student is growing peas, and I asked if I can bring my potatoes to school and plant them. Things that aren't part of the class but just end up happening, those are my favorite parts."
Why are the unexpected parts of this class the most important? Frankly, students say it's nice to get good surprises for a change.
"There's a lot of anxieties and uncertainties with everything that's going on," Condron says. "So just having a class where we're in person, that was a surprise, and it helps a lot."
"It's refreshing to be able to show up in person, go outside, all while staying safe," Leonard adds. 
And it's also a surprise to realize classmates you might never have talked to before are sharing your experiences. "People I haven't ever known before are now genuinely asking me how I'm doing," Hanshaw says. "I wasn't expecting that."