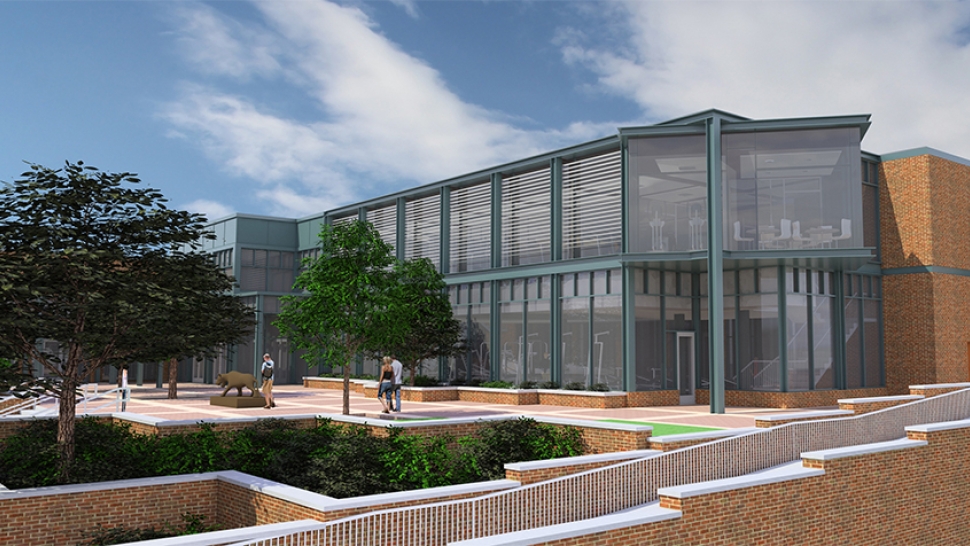 Bell Center Readies for Major Renovation
Trinity University's recreational and athletic center set for dynamic facelift
Trinity University's William H. Bell Athletic Center is set to become a renewed hub of campus life where athletes will compete and train in state-of-the-art facilities. A new, expanded fitness center will draw all Trinity students, faculty, and staff for recreation and wellness activities. "With fundraising for the renovation of the Bell Center now complete, preparations for construction are underway," said Trinity president Danny J. Anderson.
The $14.2 million renovation is made possible largely by the Chapman Trusts, with special direction by Board of Trustee member Sharon Bell and other Trustee donors. "I am grateful for the support of members of the Board of Trustees, their gifts made our plans reality," Anderson said.
"Trends toward a more health- and wellness-conscious culture, especially among our students, has increased demands on Trinity's facilities," said Bob King, director of Athletics. The Bell Center has seen tremendous growth in use by all Trinity students. The student-athlete population has grown from 200 in 1992 to more than 560 today. Additionally nearly 70 percent of the student body utilizes the Bell Center for intramural and recreational activities.
The most dramatic change to the Bell Center will be the addition of a two-level, glass-enclosed fitness center with a weight training facility and cardio fitness area to be constructed near the current main entrance. Approximately 8,200 square feet will be added to the northeast corner of the Bell Center. The new addition will be more than twice the size of the current weight and cardio facilities with room for new equipment as well as recreation and wellness activities.
The plans also call for conversion of five of the seven racquetball/squash courts into a 4,000 square foot Olympic strength training room. "The new Tiger strength room will provide Trinity with a truly elite performance development center that will benefit all who walk through the doors," said Jerheme Urban, Trinity's head football coach.
Other improvements include:
Expanded and upgraded locker rooms and athletic sports medicine facilities that will directly benefit Trinity student-athletes.
Renovations to Sams Gymnasium including the addition of new spectator seating, electronic scoreboards, scoring tables, head coaches offices, and locker rooms for male and female referees.
The construction is set to begin Sept. 1 with completion anticipated by fall 2017. The construction will be staged in phases to ensure minimal impact of the interior use of the center during the renovation. The Bell Center will remain open throughout the construction with closures planned only when necessary.
The construction will likely create challenges for use of the Bell Center for recreation, intercollegiate athletics, and for spectators in the coming year, "and we thank you, in advance, for your patience as we transform the Bell Center into a dynamic, new facility that will exemplify Trinity's promise of providing intentional spaces designed for learning and living," Anderson said.