David Tuttle Retiring as Dean of Students
Immersing himself in Trinity's community, Tuttle embraced flaws, growth in students
Thursday, January 28, 2021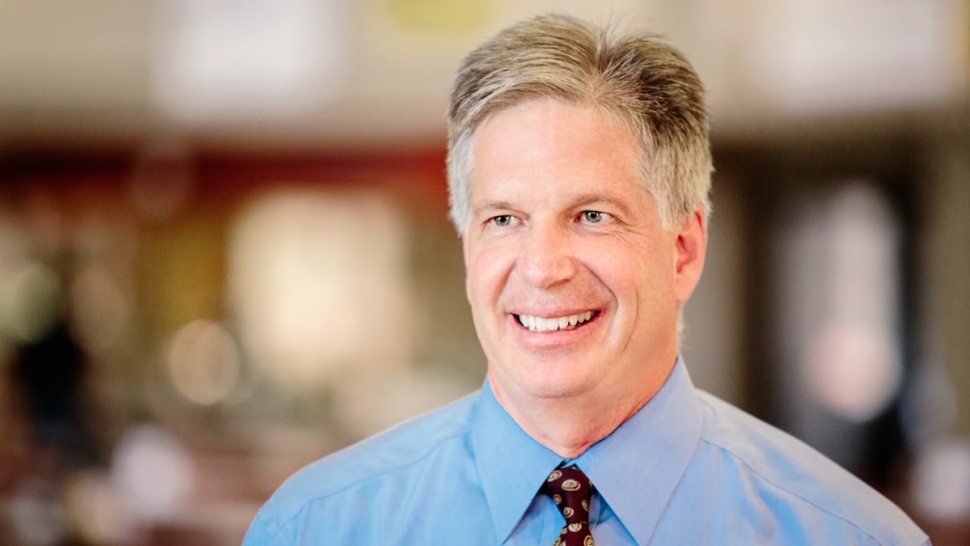 As Trinity's Dean of Students, David Tuttle has spent decades sitting beside students in crisis.
These Tigers could be mourning the loss of a loved one, facing disciplinary action after making a mistake, or staring down any number of problems. Regardless of these challenges, Tuttle wanted everyone sitting in his office to know one thing:
"I wanted them to know that the person sitting across from them was flawed—not perfect—when he was in college, too." Tuttle says. "Becoming sober in 1983, losing a parent to suicide while I was in college, and dealing with social anxiety—I wanted to be transparent about what shaped me as a student, and I've continued to use that to express to students that while we strive for excellence, we don't expect perfection. Their Dean of Students was imperfect at their age, and was somebody that hopefully could relate to their struggles, without judging them for the issues they face."
As Tuttle retires from his position after more than 25 years with Trinity, he says he's looking at the legacy he leaves behind as one of accessibility, approachability, and availability.
When Tuttle first came to Trinity in 1988, he immediately knew his best fit was working at this type of smaller, liberal arts institution. "From the first moment I stepped onto this campus I was enamored with the way it felt," Tuttle says. "This is a place where you can create real connections with students, staff, faculty and parents."
At Trinity, Tuttle served in various capacities within the Residential Life and Student Affairs areas. Most notably, he has served as Dean of Students since 1999, which overlapped with his role as director of Residential Life from 1994-2010. 
Tuttle's commitment to be accessible, approachable, and available started with being visible  and present on campus. Despite some skepticism from colleagues, he made the decision to put his cell and home numbers on his business cards and email signatures. "There hasn't been a time where anyone abused that amount of access, and I don't regret doing it," Tuttle says.
Tuttle regularly exercised at Trinity's on-campus Bell Center where he was a fixture on the basketball courts, and made a habit of going to campus events. He even held regular office hours downstairs in the Coates Center, out in the open. And by retaining his overlapping position in Residential Life, he was able to create opportunities for interactions with Trinity's student body on their turf, not just his office. 
Tuttle has also thrived creating connections through group settings. Through regular interactions with groups such as Trinity University Latino Association and Black Student Union, or groups dedicated to grieving students, Tuttle prioritized hearing directly from students who often felt marginalized or overlooked on campus.
Tuttle developed the Dean of Students Half Marathon Challenge in 2008, through which hundreds of students, faculty, staff, parents, and alumni have trained together to run, while also raising money for causes such as the San Antonio Food Bank and combatting homelessness.
Over the past decades, Tuttle saw the challenges of his role shift, along with the challenges faced by his students.
"I've always had a fantastic staff, and we've been charged with dealing with compliance and whistleblower-type issues, though this role did become even more compliance-oriented with Title IX," Tuttle says. 
"Anxiety, food insecurity, climate change—nowadays, this generation deals with so many complex issues that affect them in ways we couldn't begin to imagine even a decade ago," Tuttle says. "Technology has just amped everything up. And after 2016, you also see a type of amplified social and political division in their world."
Tuttle made communication a priority, regardless of platform. He developed his own shows on Tiger TV, wrote columns in the Trinitonian, and kept a blog.
But Tuttle's greatest tool in the face of these challenges, he says, was to cast aside the temptation to be a "talking head" to students, and instead operate in a direct mentorship role with as many of them as possible. And while times and challenges have changed, Tuttle says his bonds with students have uncovered a remarkable truth: The culture of Trinity's students has remained remarkably consistent.
"Our students are bright and involved, clever and hilarious, they have high expectations—which they should have—but they are not competitive with each other," Tuttle says. "They want to help each other, and that makes them a special group. And when they become alumni, I've seen what they can become. You can't put a price tag on that."
Ultimately, this tight-knit, supportive community has been the greatest bulwark against times of crisis, Tuttle says. 
And it's what he'll miss the most when he retires.
"When you come here to Trinity, this place has a community that you can just immerse yourself in," Tuttle says. "I enjoyed just a complete integration of my personal and professional lives here. I got engaged here, had kids while I worked here, grew as a person and a family man."