The Making of a Movie - Wake Up!
Fighting Human Trafficking One Theatre at a Time
As a theatre major at Trinity, the life of Janet Craig '84 changed in her "Integration of Abilities" class. She was given the assignment of creating a musical piece, dance, visual art and a play all centered around a rock. The class taught her to "think outside the box" and catalyzed within her the desire to direct and contribute creatively to the world.
In 2010, her daughter wanted to celebrate her 16th birthday with family and friends by attending a Forever Found fundraising event, whose stated mission is to prevent, rescue, and restore child trafficking victims. At the party, Janet met musical artist and organization founder Shannon Sergey who inspired her to use her art for the cause. She began mentoring a Forever Found girl, and she and her husband Doug Grossman '84 undertook their own journey of foster care and adoption.
The church she and Doug attend is filled with foster families, and Janet's understanding of the link between foster kids and trafficked kids continued to grow. According to Janet, it is estimated that half of all trafficked children come from the foster care system. That reality brought her to her knees and she began to pray about how she could use her talents to raise awareness of the problem and inspire people to do something about it.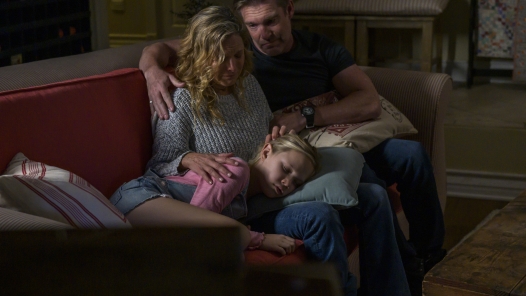 Janet Craig, Judson Mills, and Zoe Noelle Baker in a movie still from Wake Up.
Eleven years after her daughter's birthday party, the full-length feature film, Wake Up, became a reality. Janet wrote and directed the film with plenty of help along the way from actual trafficked survivors who reviewed the script and edited the dialogue for authenticity. The film completed a pre-release nationwide tour in January, which is National Slavery and Human Trafficking Prevention Month, and is currently winning awards and significant media attention. Wake Up was named an official selection of the Sedona International Film Festival. After each screening, a panel of survivors, law enforcement officials, and front line advocates spoke about what was happening in real time, in their cities, to fight the child trafficking epidemic. They provided ways for the audience to get involved like buying pajamas for victims in Milwaukee through Fresh Start. They also provided terrifying statistics: The majority of pornography features trafficked children and teens; half of all trafficked victims are boys; the average age of a trafficked child is 12-14 years old.
Wake Up was partially crowd funded, and the mile-long list of credits covers all the people who came together to create the film, from financing to volunteers who donated pizza, cast and crew members, and expert cinematographers. All proceeds from the film are donated to anti-trafficking organizations. Janet wouldn't have it any other way. "I don't think any of us can do anything really well without other people," she says. "Everyone brought their gifts and talents together to make the film."
The team is working on the distribution agreement to bring the film to a broader swath of theaters and they are about to begin work on a TV series focused on trafficked survivors. A huge benefit of the pre-release tour came in the form of survivors coming up front after the movie and telling their stories. One of these survivors, Rachel C. Thomas, is an appointed member of the United States Advisory Council on Human Trafficking and is also featured in the film.
Dallas premiere of Wake Up with (left to right) director Janet Craig, Rachel C. Thomas, and foster care champion and producer Kristen Wise.
From a Trinity creative project about a rock to a feature film inspiring people to fight human trafficking, Janet remains humble in her pursuits to change the world for good. "It's just amazing that we get to do anything in this world," she says as she tips her white fedora hat and heads home to her next creative endeavor: making dinner.
If you see anyone who you believe is being trafficked -  take action - call 9-1-1. If you think this isn't happening in your neighborhood, see the movie, Wake Up!