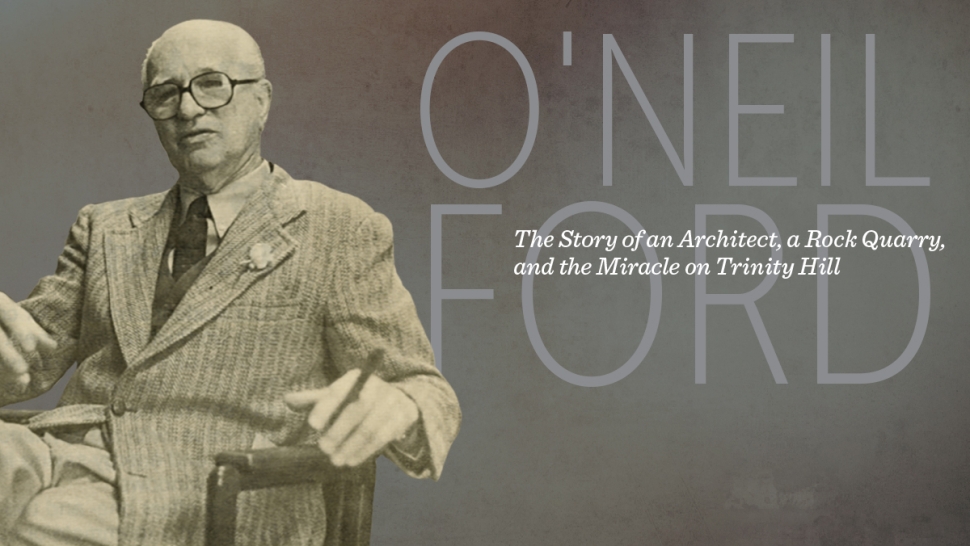 The Story of an Architect, a Rock Quarry, and the Miracle on Trinity Hill
Half a century ago, architect O'Neil Ford sat down to craft a letter. He sought to be authentic. Direct. Unpretentious. He believed a letter was the right vehicle to best convey the full measure of his feelings. 
In what would become his commencement address, Ford wrote to the candidates for the Class of 1967 on the eve of their graduation. He would be presented with an honorary doctorate of fine arts for his contributions to the "harmony, beauty, and utility" of the Trinity campus. His words, now preserved on translucent, yellowing typewriter paper, rise above the page in delicate arches and modest curves of black ink. 
"Though the broad campus plan and building character were strong in our consciousness from the first, we who have seen every yard of rock cut away, every brick put in its purposeful place, probably feel an elation and surprise that isn't equally shared by you who have only recently come here," Ford said. "For as the physical campus grew, there was an accompanying growth here of the spirit of enlightenment and respect for man."1 
After nearly 20 years guiding the built evolution of Trinity, Ford lamented a future without the clamor of construction, the excitement of the new, the promise of buildings yet to be created. He reflected upon "this hill above and below our good rock bluff," and saw an "approaching end of a beginning."
Ford came to Trinity in 1948 on the advice of William Wurster, Trinity's consulting architect and dean of architecture and planning at MIT.2 The University had purchased an abandoned rock quarry, four miles north of downtown San Antonio, to build Trinity's permanent home. Wurster, a personal friend of Ford's, recommended him for the project after University Trustees decided to forgo a traditional campus model with Georgian architecture for a more functional, economical style. Ford joined the team of Bartlett Cocke and Harvey P. Smith to draft a second campus plan.
Limestone Jungle
Upon first sight, Ford jokingly called Trinity Hill a "dismal and antagonistic jungle" littered with battery boxes, glass, wire, and chunks of asphalt. Yet, as he walked the campus, Ford took in its distinctive, sloping topography and the limestone escarpment that famously bisects the campus. 
"Ford was influenced by Wurster, who said that Trinity should 'not negate this site and should let the hills design the buildings,'" says art history professor Kathryn O'Rourke. "Part of Ford's legacy is his understanding of landscape and the wonderful cliff face that we have. That's the genius." 
Although original plans called for Trinity's site to be leveled, Ford understood that the beauty of Trinity's location stemmed largely from its rocky divide. Only an informal grouping of buildings would appropriately fit the site's unique topography. 
"The buildings on this beautiful ex-dump heap are ranged above and below the rock quarry bluff with enough ease and order and inter-relation to make them relevant to each other," Ford said in 1967. "This has resulted from a determination to put things where they logically belonged rather than setting them in some prescribed monumental or geometrical pattern."
Exercising great foresight, Ford thought deeply about the varied relationships between buildings, between students and faculty, between the buildings and the site, and between academic departments. He also considered the University's proximity to downtown San Antonio. Ford oriented Trinity's buildings in such a way that they aligned with and mirrored the long, thin streak of the escarpment. He positioned the buildings so that occupants received the best views of downtown and were naturally inclined to take in that spectacular vista.
Anne Ferguson '17, an urban studies and Spanish major, grew up in San Antonio, where she says Ford has become a "total legend." Long interested in the built environment, Ferguson's ardor for architecture only grew when she took "20th Century Architecture and Urbanism" with O'Rourke.  
"One of my favorite aspects of Ford's campus plan for Trinity is that it embodies the meandering nature of a liberal arts education," Ferguson says. "Students are allowed to create their own path, both physically on the campus and academically."
Ferguson points to Storch Memorial as a prime example of Ford's ability to use architecture to showcase natural views. 
"Once the original campus library, Storch subtly bridges that divide between academic and living spaces and spatializes the whole point of seeking higher education," Ferguson says. "And that is to go out and make a difference in the world around you."
Alejandro Garza '03-'05, an architectural designer at McKinney York Architects in Austin, Texas, shares Ferguson's love for Ford. Garza attended Trinity for two years as a chemistry major before transferring to UTSA, but says he has never lost his appreciation for the campus' architecture. He still remembers studying in Coates Library, searching for just the right place to camp out, when he would happen upon a view made deliberately by design.  
"There were these little experiences where I would be studying and I would peek out and the view would be perfectly framed," Garza says. "I did not know it at the time, but experiences like these really made an impression on me."
After transferring to UTSA, Garza changed direction from chemistry to architecture. Later, when he applied for graduate studies in architecture, Garza referenced the role Ford's buildings played in his personal development. As luck would have it, Garza applied for a student intern position at Ford, Powell & Carson—O'Neil Ford's San Antonio architecture firm—during his final year of graduate school. To his surprise, he was brought on board and later became an intern architect, designer, and building information modelling (BIM) manager at the firm. 
Garza's education about Ford grew deeper, as did his appreciation for Ford's aptitude to root architecture in its context and to be responsive to the placement of the building site. 
"He allowed the building to become a part of the landscape, and in some ways, to fuel it," Garza says. "You see his responsiveness to context in the way that the campus is laid out, and Ford's practical and elegant approach is something I aspire to in my own work."
Laid by Hand
To best serve Trinity and its future occupants, Ford relied on his knowledge of San Antonio and Texas. Ford was a modernist who was deeply informed about Texas indigenous architecture and materials. He became known for his ability to "merge modernism with the architectural idioms of the pioneer Southwest," as The New York Times noted in his 1982 obituary. 
A Texas native, Ford was born in 1905 as Otha Neil in Pink Hill, near modern-day Sherman. He hated the name Otha and shortened it to O.Neil as soon as possible.4 With time, the period became an apostrophe, due either to a misaddressed letter or a popular 1920s song called "Peggy O'Neil." Ford and his siblings, Lynn and Authella, grew up outdoors, and Ford's father, Bert, taught his children the types of trees and the importance of physical education.5 In a school woodworking class, Ford first developed his lifelong love for good craftsmanship. 
That love of hand work and the use of good, honest materials would only grow over time. When Ford came to Trinity, he required materials that would serve his simple, yet functional style. The trademark "Trinity red" brick—actually a hue called "Bridgeport pink"—was chosen because it was laid by hand and because it beautifully reflected the glow of the Texas sun. 
Michael Guarino, a principal architect at Ford, Powell, & Carson, adds that brick was also picked because it was an inexpensive material, and Ford, a product of the Great Depression, would've known it well. 
"Ford took a serious look at the orthodoxies in modernism and then filtered that through a lens of respect for local culture, climate, and the materials at hand," says Guarino, who remembers going to Ford's lectures at the University of Texas at Austin. "In Trinity, you had a clearly modernist approach to the buildings, but that was also determined by limited resources."
Julia Walker '99, an art history professor at Binghamton University, also underscores Ford's use of the right materials for the right project. Walker says Ford consciously thought about how brick would stand up to the South Texas heat. He also drew a correlation between the brick's shape, the contour of the escarpment, and the horizontal lines that defined his buildings. 
"Ford saw this long, low slope on the campus site, and he thought of brick, which is long and low," Walker says. "Then he thought of this lift-slab technique, which creates long, low buildings. Everything grows out of the site. The materials relate back to it in fundamental ways that don't just have to do with how they look. It also has to do with how they behave and how they age."
In a 1981 interview with David Dillon, the architecture critic who would write The Architecture of O'Neil Ford: Understanding Place, Ford remarked, "The beauty of brick is that you can hold one in the palm of your hand. You have to lay brick by hand, so that when you've finished, you know how a wall is built because you can feel it."6 In addition to his upbringing in North Texas, where he hung around brickyards as a kid, Ford had traveled throughout South and Central Texas looking at native architecture. This greatly influenced his philosophy of design and the materials he used. 
Besides brick, Ford strategically used wood to tie his buildings together. O'Rourke points out that the wooden slats used as wainscoting and elsewhere in the Chapman Center mirror the wooden slats adorning the Laurie Auditorium parking garage. The buildings were built at chronologically different phases in Ford's progression as Trinity's architect, but these are the meticulous details that run through Trinity like a constant current—all intentional applications of materials he deemed "honest." 
"The wood is used in a totally different context, but there is that repetition of form yet again," O'Rourke says. "Ford had an eye for those wonderful details."
In addition to intricate details, Ford embraced big-picture ideas. He famously pioneered the use of the lift-slab method on Trinity's campus, where concrete floor and roof slabs were poured on the ground and held apart by a wax coating.7 Hydraulic jacks then raised the slabs. Lift-slab was an economical investment for Trinity, and the Youtz-Slick construction technique was employed for the first time on a full-size structure with the original Northrup Hall, which doubled as a classroom and administrative unit.
The horizontal spirit of lift-slab construction reinforced Ford's theme of long, graceful lines. Ford designed the buildings to blend into one another instead of stand apart, and a linear design helped connect the buildings together. In his commencement address, Ford noted he was "deeply grateful for this devastating departure from the prevalent." No one building was supposed to call attention to itself. 
Gordon Bohmfalk, Trinity's director of campus planning and sustainability, says that on the surface a building may appear only to serve a function: A classroom is meant to be a place of learning; a dormitory a place to live. But it is in the history of these buildings that we gain an appreciation for better using them. This lived experience of buildings is something Ford comprehended.
"He understood how buildings go together and how to make them be long-lasting," says Bohmfalk, who will oversee the implementation of Trinity's Campus Master Plan. "Ford considered whom his work might affect over time, so he thought about site, human scale, materials, natural light, and craft. He was very well studied in any project he took on."
As an architecture student at the University of Texas at Austin, Bohmfalk once worked on a project at Hot Wells, a former hotel and health spa in San Antonio. Ford critiqued the class' work for the redesign and told Bohmfalk, after a final presentation, that he "had a good hand."
The Art of Design
Moving forward, Bohmfalk says that one of the best ways to honor Ford's architectural legacy is to show a respect for the original buildings. The University is currently seeking placement on the National Register of Historic Places, a designation that will commemorate the vision shared by Ford, Wurster, former Trinity presidents Monroe Everett and James Laurie, and many others. This historic district is one of the objectives of the Campus Master Plan. 
Diane Graves, University librarian and chair of the Master Plan Committee, says Ford's buildings and their siting have been a cornerstone for the committee's work. 
"The campus is a physical embodiment of the liberal arts," Graves says, echoing Ferguson. "It involves the art and vocabulary of design, the science and engineering of innovations such as lift-slab construction, and the way buildings and walkways foster a sense of community."
As heirs to a mid-century modern campus, each inhabitant of Trinity must understand and value that we all share a role in preserving the campus' ethos. 
For Wandita Ford Turner, Ford's eldest daughter, that role is deeply personal. "We lived his projects," Turner says. "I can still see him sitting at our big, marble dining room table at Willow Way with huge sets of plans and 'butter paper,' working into the wee hours. I took my first steps across the floor in the drafting room."
She remembers her father as "unselfishly generous and inclusive beyond all words." He took her sketching in Hondo and Castroville, and Turner later worked as an administrative assistant at his firm in the 1970s. She says that people should honor her father, a man who "never knew a stranger," by writing about his work and studying his buildings. 
Linda Ford, like her sister, recalls running out to her father's car after he came home from a work trip. As she grew up, she remembers learning the term hyperbolic paraboloid long before she knew its meaning and watching her father sketch drawings of Murchison Tower on dining room napkins. She knew him to be "principled, compassionate, and self-disciplined," but never "rigid." 
"He not only valued learning and creativity, but he never stopped embodying those values in his own actions or cultivating them in others," Linda Ford says. "He felt strongly that architecture should not be about the architect and always maintained the capacity to be excited by new ideas and experiences."
Both Wandita and Linda attended a 2012 symposium called "O'Neil Ford and The Future of Trinity University," which examined their father's legacy and accomplishments. 
Among Ford's plentiful accomplishments are the designs of the Little Chapel in the Woods at Texas Woman's University in Denton, Texas; the Tower of the Americas in Hemisfair Park; and several buildings on the Texas Instruments campus in Richardson, Texas; and the restoration of La Villita and the San Fernando Cathedral. Ford was an ardent champion of historic preservation and, in 1968, was appointed by President Lyndon Johnson to the National Council on the Arts. Additionally, in 1974 Ford himself was designated a National Historic Landmark, the only individual to ever be given that title.
Yet for those who know Trinity, Ford will always be remembered for the more than 40 buildings he brought to life on campus. His legacy lives in the cheerful conversations between faculty and staff in shaded plazas and down the steps of tucked away building entrances. His legacy persists in the camaraderie and solemnity of a Vespers service in the Margarite B. Parker Chapel, as the pipe organ thunders gloriously away. His legacy thrives as students walk into Coates Library on their way to garner some wisdom of their own. 
For many who have lived at Trinity, worked at Trinity, and taught at Trinity, Ford has become synonymous with the campus we experience on a daily basis and remember long after we have marched forth from Laurie. As students, alumni, faculty, and staff, we are all stewards of a historic campus that has survived the test of time and continues to make us proud. Ford is our campus, our home away from home. His architectural legacy lives in all of us and the example we set as keepers of this beautiful, vibrant campus in the sun.