Forces in Motion
---
The University's brand guidelines both set us apart and unify us as One Trinity.
The Trinity brand is more than just the Tower or the Tiger: Our brand is our guide to telling Trinity's story and making connections across our community and our world. Consistent use of our brand and its guidelines amplifies our national profile. 
Unified Message
Our voice is rooted by enduring excellence, intentional inclusion and perpetual discovery.
---
Brand Statement
The Trinity Brand Promise
The Trinity Story
Brand Statement
---
Trinity University transforms obstacles into opportunities. Resilient, creative, and enterprising, we see new challenges as chances to build on our legacy of innovation. Through a commitment to redefining the liberal arts, our heading is fixed on a brighter future. Together, we are a force in motion.
The Trinity Brand Promise
Trinity University prioritizes personal attention and cares about the needs of each individual within a supportive campus community.
The Trinity Story
Trinity is known for its experiential education, offering hands-on learning through undergraduate research, internships, entrepreneurial pursuits, international engagement, and more.
Unwavering TigerPride
The Trinity experience is a powerful one, and we cherish our journeys as Tigers at Heart.
Rankings and Value
Become a Brand Ambassador
Student Profile and Our Campus
Become a Brand Ambassador
Rankings and Value
Trinity's academic and co-curricular environment is consistently ranked among the best in the nation by respected guidebooks and rankings.
Student Profile
Trinity's student profile lifts up Tigers of all stripes, showing both a breadth and depth of student diversity and achievement
Trinity Swag
It's ok, brag a little! Tell the world that you're proud to be a Tiger with downloadable logos, branded social media elements, even ringtones for your mobile devices—plus guidelines to help you use them.
Uniform Design
Trinity University waves the maroon and white—our colors inform and transform our print and digital designs.
University Logo
The Trinity University logo is the keystone of our visual identity and is used on all marketing and communications materials. Using it consistently will enhance Trinity's national profile.
The Trinity logo is made up of two elements:
An illustrated rendering of Murchison Tower
Reading "Trinity University"
 
Download the Trinity Logo
Request or download the logo from dam.trinity.edu
Spirit Logo
The Trinity University Spirit Logo has been designed to reflect a fierce, competitive attitude and spirit across campus. In addition to use in athletics settings, it can also be used for applications where school spirit is promoted.
The Icon and University Seal

The Icon
Contact Strategic Communications and Marketing at marketing@trinity.edu for guidelines on the usage of the tower icon in special situations.

University Seal
Use of the Trinity University seal is limited to official administration offices such as the Office of the President and other Trinity Board-sponsored applications. Contact Strategic Communications and Marketing at marketing@trinity.edu for guidelines on the usage of the University seal.
Colors
One of the most important Trinity University branding elements is our color palette.
Primary Colors
Trinity's primary color is maroon, matching Pantone® 7623. It is complemented by white. Using the primary palette, Trinity invokes a sense of pride and tradition, even referenced by our Alma Mater: "Your banner bright, maroon and white, we hold in high esteem."
Tertiary Colors
Trinity's tertiary colors include green, blue, purple, and gold. Tertiary colors and their shades or hues should not be used without also using a secondary color and the primary maroon.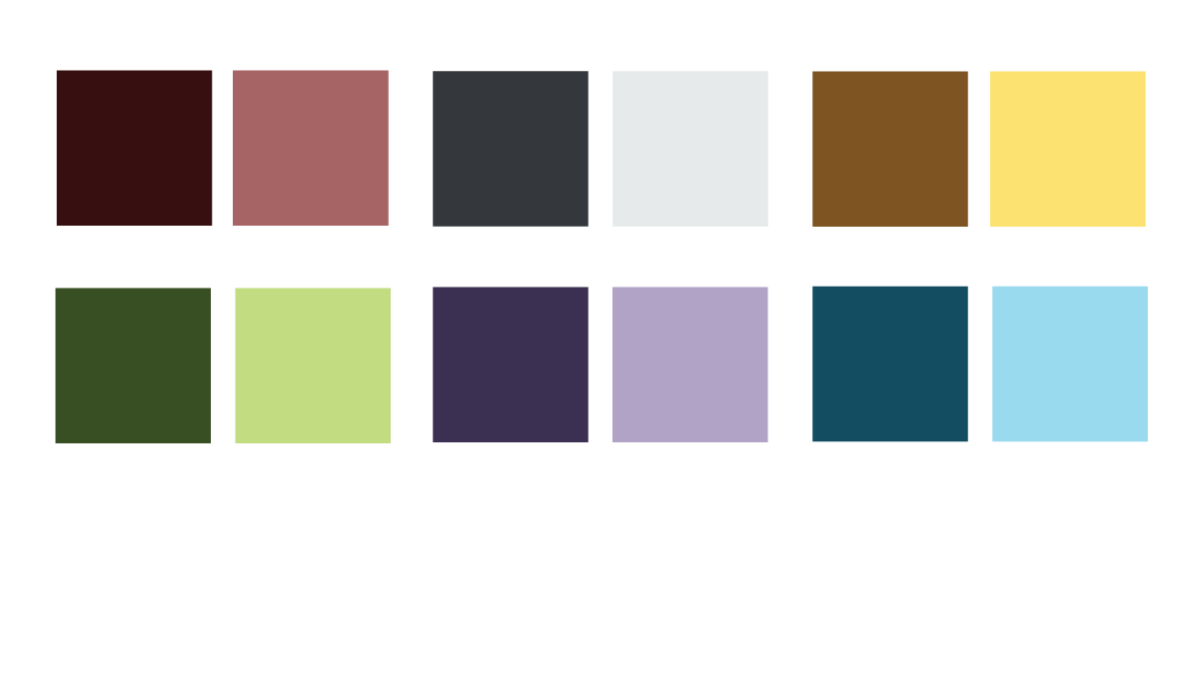 Secondary Colors
Trinity's secondary colors include a dark gray, a light gray, and a beige. Secondary colors should not be used without also using the primary maroon.
Shades and Tints
Shades (made by adding black) and tints (made by adding white) can be used to complement colors in Trinity's color palette. Shades and tints should never be substituted for primary, secondary, or tertiary colors, but can be used alongside these colors for added depth and brand consistency.
Typography / Fonts
The below font families were carefully chosen to reflect the University's brand identity.
Hit Me with Your Best Font
Trinity's brand fonts are available for installation by contacting the ITS at itsupport@trinity.edu.